Professionally trained Bridal Hair & Makeup Artist based in the West Coast of Scotland.
LeeAnne has worked in the industry for over 10 years, specialising in Bridal Hair & Makeup, Fashion and Beauty. In this time she has also opened BASE Salon where she carries out a number of Beauty treatments including Semi Permanent Makeup, eyebrows and Occasion Makeup.

Since Qualifying in HND makeup artistry LeeAnne has travelled to many countries for weddings including Ibiza, Italy, Malta, Poland as well as travelling all over Scotland for brides. She has worked at Cannes Film Festival and London Fashion Week, working closely with top designers and the best photographers, hair stylists and makeup artists in the industry.

LeeAnne has earned herself a professional reputation, been nominated for the Outstanding Wedding Supplier Award (VOWS) and is dedicated to providing a luxury Bridal Service, taking pride in her work and paying attention to the finer details to produce flawless finished looks. A relaxed, professional atmosphere and high quality of creative skill is important to LeeAnne along with continuous training to update techniques and knowledge.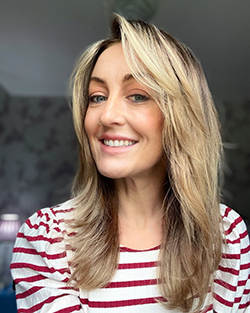 ---
Kerri Morrison
19/01/2021
recommends
LeeAnne was amazing doing the make up and hair for my wedding last month, along with my bridesmaids hair I loved them both and my make up evening stayed put after our beach wedding in the wind and rain! The bridesmaids hair was amazing too. LeeAnne was lovely and I would highly recommend 🥰
recommends
LeeAnne did a fantastic job on my hair and make up for my wedding! highly recommend!!😍
recommends
Leeanne was AMAZING. My wedding hair and make up was just perfect as was everyone else's in the bridal party!she was very professional throughout. Can't count the number of comments I got about how nice my hair and make up was. Honestly can't recommend her enough. Simply perfect. Thank you so much, Karen x
recommends
I can't recommend LeeAnne enough, she made me feel amazing on my wedding day on the 15th Oct. LeeAnne captured exactly the look I wanted, and she was so friendly and professional which made my wedding morning relaxed and fun. Thank you again Leanne
recommends
We had the pleasure of having Leeanne for our wedding hair and makeup for our elopement on Halloween. Very professional, friendly and most importantly... Made us look and feel amazing. We can't thank you enough for coming to our rescue, especially during such uncertain times! We would definitely recommend Leeanne. Many thanks, Jayde & Lorraine 😊.
Samera Mclagan
10/09/2020
recommends
LeeAnne was lovely & a calming force on my wedding day. I was really happy with my hair & make up! I loved how just as I was about to make my entrance she was there applying finishing touches, reapply my lippy giving my girls curls a go over. Thank you LeeAnne you really made me look fabulous & relaxed 🥰
Alexandra Yates
03/09/2020
recommends
Wow , professional and calm thank you so much LeeAnne for making my big day so special xx highly recommend you xx
recommends
LeeAnne travelled to do mine and my families make-up for a wedding and i cannot recommend her enough. She done exactly what i asked for and my make up was perfect!!! LeeAnne is so lovely and chatty too! thank you so much! 😘 x
recommends
Thank you Leanne for doing my make up xx
recommends
LeeAnne done my make up lastnight for a formal event and I walked out the salon feeling so confident. She is amazing at what she does and is so informative and helpful giving tips on what can help with any problems you have with putting on your own makeup. Magic hands. Thank you so much xxx
Facebook rating score: 5 of 5, based on 68 reviews
Filmography
Film/Tv
2014 Assistant makeup artist BBC production of "WHATS FUNNY ABOUT THE INDYREF"
2013 Head makeup artist on the short film "BROKEN"
2013 Makeup artist on the feature film "GOOD INTENTIONS"

Theatre
2013 Head makeup artist Denny Civic Theatre's production of "SLEEPING BEAUTY"

"Beneath the makeup and behind the smile I am just a girl who wishes for the world."
Marilyn Monroe